The rules are simple to win: No "xxx" jokes, sorry. Kit Menkin cannot win (relatives, friends and employees can enter and win). Please note, if in the decision of the judges there is no "best" joke, a previous month may be included, and like in horseshoes, there are no ties. Winners of previous months can also win a second or third time - There is no limit.
Please send me your favorite joke. The first one to send it, not only gets the credit, but a good bottle of wine or a box of chocolates (the winner's choice).

Jim Hanzlik




Watsonville, California




"$7 Haircut

"

In October, there were not enough jokes to make a contest. There were many "lists," "attachments," "bawdy jokes," so we bring up the first winner of our joke of the month in April, 1998:




"$7 Haircut.




A small-town barber was doing well until a big company moved in across the street. They blitzed the place with signs reading, "EVERYTHING FOR $7!..... $7 Haircuts! ...... $7 Perms! ..... $7 Manicures! .... Everything for $7!" Well, the barber lost all his customers and in despair he hired an expert.




"I'm finished!" he declared..."I can't compete with them!"




The consultant looked out the window and said, "Not just yet -- I have an idea!" He picked up the phone and called the town's only billboard company and told them to put a big sign on the top of the barber's shop.




"And what do you want us to put on the sign?, they asked.




He replied, "In big bold letters put the words WE FIX $7 HAIRCUTS!"



---
From Jim Hanzlik:
I've really noticed over the last year that the number of jokes I get and send out have really fallen off. I guess one problem with the Internet is that all the jokes get passed around quickly. I think the first few years we spent passing around all the jokes that ever existed, and now all that's left are truly original jokes. Unfortunately those aren't as plentiful.

As for my personal info here it is. I graduated from Monte Vista Christian High in 1995 and USC in 1990. During my college years I spent a year in Nagoya, Japan at Nanzan University where I studied Japanese and lived with a Japanese host family. After graduating from USC I worked at a research group that conducted audience surveys of movies before they were released to the general public. In 1994 I moved back to Watsonville, CA to work in the family business, Azzie's Storage.

We rent and sell shipping containers for portable storage. Last year, after 34 years of bachelorhood, I got married to Olivia Alonso. I also gained two wonderful step kids, Rachel (15) and Eric (10). I guess you could say that the difference between bachelorhood and the married life with kids, especially a teenage daughter, is not insignificant. You could actually say it's a bit of a shock to the system, but it has been a wonderful, exhilarating year. Oh yeah, did I mention that Rachel is now learning to drive? That seems to really add to the exhilaration. Luckily, my new family is great and we're having a great time building our new family. Part of that construction process is the addition of a new member to our new family so now my wife is pregnant and is due on April 10th. Wow, soon we can add screaming baby and diaper changing to the list of new things in my life over the last 16 months. If I was smarter I'd probably be a little scared of the coming addition, but my ignorance of taking care of a baby is keeping me excited. I think my wife is secretly laughing behind my back.

That's about it for my story, and I've attached a family picture.

Thanks,

Jim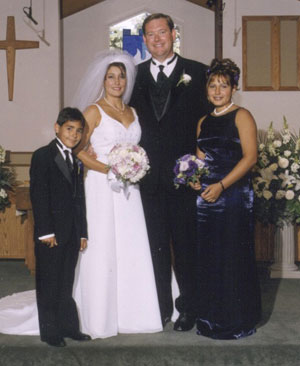 Past Jokes of the Month
Year 2002
September 2002
Larry Faber
Mountain View, California

"National Gallery Painting
"

August 2002
Rosalie
Santa Cruz, California
"Vasona Park Visit "

July 2002
Dan Sorkin
Walnut Creek, California
"New Hearing Aid"
June 2002
Dan Sorkin
Walnut Creek, California
"Nevada Cowboy"

May 2002
Gene Blakeslee
Monte Sereno, California
"The Retirement Package"

April
Kevin Bennett
San Jose, California
"The Highway Patrolman and the Blonde"
His Prize: Bottle of 1996 Rombauer Napa Valley Merlot

March
Peter S. Carter
Los Gatos, California
"Golfer Answers Cell Phone Call"
His prize: a bottle of 1994 Beringer Howell Mountain Merlot,
with the request Kit and Sue join he and his wife for dinner to enjoy the win together.
February
Stewart Kahn
Redondo Beach, California
"Mother Superior"
Prize is a dinner for two at California Cafe
( this is his third time )

January
Dan Sorkin
Walnut Creek, California
" Warshawsky's Bar"
His prize: $100 Certificate for Dinner at California Cafe
Dan has won six times!!!



Past Jokes of the Month
Year 2001

December
Randy Schiell
Denver, Colorado " Noah's Ark"
His prize: 1997 Stag's Leap Wine Cellars Napa Valley Cabernet Sauvignon

November
Rob Yohe,
Stillwater, Kansas
1998 Dalla Valle Pietre Rosse, Dalla Valle Vineyards, Oakville, Napa and 1996 Chateau Woltner Chardonnay, St. Thomas Vineyards, Howell Mountain, Napa
"Viagra"
October
Farley Gouner
San Jose, California
He did not want wine or chocolate, but to have lunch with Kit Menkin. (please no cracks that is the second place prize.)
"Non-Violent Solution"
September
Samuel R. Swift, A.P.L.C.
San Jose, California
A case of Gordon Birsch Marzen beer
"Stock Tip"
August
Steve Gabriel,
San Jose, California
A case of .375 ml 1995 Duckhorn Merlot Howell Mountain
* Finally! -- a Blonde GUY Joke!
July
Charlene Lunny
San Francisco, California
Dinner at Scoma's Restaurant, San Francisco
"BMW"
June
Dan Sorkin, Piedmont, California
zChocolate
"Fishing in East Texas"
May
Jeff Reynolds, Oakland, California.
This is his second time.  He won in January. He receives six bottles of 1997 Chateau Woltner Howell Mountain Chardonnay.
  "Stopped by the Police"
 April
Hal Sharpe, Paradise, California
He receives the best chocolate assortment from Dan's Chocolates.
"Scotch and Water"
March
Leigh Weimers, Los Gatos, California
French zChocolate Peche", 1996 Galante Vineyards Cabernet Sasuvignon Red Rose Hill Carmel Valley, 1998 Eos Chardonnay Paso Robles
"Grandpa"
February
Larry Faber
Mountain View, California
" Nevada Winter "
Second time he has won, dinner for two with Kit and Sue, plus a bottle of his favorite wine, 1996 Duckhorn Vineyard Merlot
January
Jeff Reynolds
Oakland, California
Thirteen!!!
A bottle of 1996 Joseph Phelps Merlot Napa Valley
Year 2000
December
Rob Yohe,
Stillwater, Kansas
"Bald Eagle"
A bottle of 1996 Robert Sinskey Vineyards Merlot Los Carneros of Napa Valley

November
Leigh Weimers,
Los Gatos, California
Pest Control Inspector Gets Caught
Two pound box of Schurra's Fancy Chocolate.
(also a Christmas present to Leigh and Geri)
October
Jeff Wong,
of San Francisco, California
Take my wife, please
One pound Box of Godiva Chocolate.
September
Captain James Sloan, Salvation Army
of San Jose, California
POLISH AIR DISASTER
One pound Millenium Box of See's Chocolate.
August
Larry Faber, Mountain View, California
Jewish Sex Therapy
Bottle of 1995 Duckhorn Napa Estate Merlot.
July
John Wold of St. Charles, Illinois
Father O'Reilley
Two pound box of Fancy Godiva Chocolate and Truffles.

June
Dan Sorkin of Piedmont, California
Jewish Poker Game
Rutherford Hill 1984 Cabernet Sauvignon, Methuslah.
(he is a four time winner, this winery not only overlooks Auberge du Soleil in Napa Valley, but producess some outstanding red and white wine)
May
Chuck Brady, Saratoga, California
Man goes to see the Rabbi
A bottle of 1996 Robert Sinskey Merlot Los Carneros Napa Private Reserve.

April
Stewart Kahn of Redondo Beach, California.
80,000 Blondes
A 1 ˝ pound box of Godiva truffles plus a two pound box of Godiva Gold Ballotin chocolate as his award.
A Second Time Winner
March
John Wold of St. Charles, Illinois
The Internet Warnings
A 1 pound box of Godiva truffles as his reward
February
Dash Menkin of Elko, Nevada
The Blonde and the Attorney
A big box of See's Millennium Tin chocolate as his award.
January
Jim Hanzlik of Watsonville, California
A big box of See's favorite, Millenium Tin Collector,
plus a Valentine Day box to give to his sweetheart
Past Jokes of the Month
Year 1999
December
Dan Sorkin of Piedmont, California
A case of Chateau St. Julien Monterey Merlot
Third Time Winner
November
Stewart Kahn of Los Angeles, California
One pound box of Godiva Chocolate
October
Randy Warshawsky of San Jose, California
1994 Joullian Cabernet Sauvignon, Carmel Valley
1996 Castillo Saugiuvese

September
Dougald Turnbull of Campbell, California
1989 Georis Cabernet Sauvignon, Carmel Valley
1995 Turnbull Cabernet Sauvignon Napa Valley, Oakville
August
Wally Lunny of San Francisco/Glen Elen, California
A case of 1997 Chateau St. Julien Monterey Estate Merlot
Second Time Winner
July
Kevin Skelly of Saratoga, California
1994 Robert Sinskey Pinot Noir Reserve, Los Carneros, Napa Valley
1995 Robert Sinskey Merlot Reserve, Los Carneros, Napa Valley


June
Chris Cross of Hayward, California
1997 Duckhorn Vineyard Napa Valley Sauvignon Blanc,
1996 Clos Du Bois Sonoma County Pinot Noir
and a box of Schurras Fancy Chocolate
May
John Turnbull of Mendocino, California
1995 Turnbull Cabernet Sauvignon, Napa Valley, Oaksville
April
Jerry Jacob, San Rafael, California
One pound box of Godiva Chocolate

March
Bob Bressler, Los Altos Hills, California
One pound box of Godiva Chocolate
February
R. Donald Chapman, San Jose, California
1994 Chateau Latour a Pomerol, prop. Mme. L.P. Lacaste Loubal
January
Jim Beck, Los Gatos, California
1994 Estate Grown Copper-Garrod Cabernet Sauvignon, Santa Cruz Mountain Appellation


Past Jokes of the Month
Year 1998
December
Russ Mattos, Mountain View, California
Two great tickets plus parking pass for the Monday Night San Francisco 49ergame at 3Com Park
November
Kim Davison, San Jose, California
Case of 1998 Campus Oaks Chardonnay
October
Dan Sorkin, Piedmont, California
Two pound box of Godiva Chocolate and second time winner,
one pound box of Godiva Truffles
September
Rosalie, Santa Cruz, California
1995 "Reserve Speciale" Barons de Rothschild (Lafite)Medoc
August
Dan Sorkin, Piedmont, California
One pound box of Godiva Chocolate
July
Jim Swander, Bellevue, Washington
1989 Ridge Santa Cruz Mountain Monte Bello
June
Nanette Weintraub, Los Gatos, California
One pound box of Godiva Chocolate
May
Walter J. Lunny, III, San Francisco/Glen Ellen, California
1976 Bolla Amarone Classico Chianti
April
Jim Hanzlik, Watsonville, California
One pound box of Godiva Chocolate