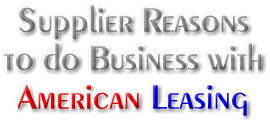 1. You are dealing with decision makers. We make up our own mind. And we have an experienced, dedicated staff who wants to see you make money. If you don't make money, then we don't. We want you to succeed. This is our attitude.
2. After running quick credit, we can tell you in five minutes on a scale of 1 to 10, what will be necessary to get an approval, what the chances of approval, and as important, what options your customer has to pay you. We will help you and your company not lose a sale.
3. We have been in business for over twenty-eight years in Silicon Valley, California. We have spent this time learning to do it right. We do all credit and obtain all information "in house," including financial information analysis.
4. We have our own cash plus several lines of credit and access to many sources. We satisfy a spectrum of credit. Similar to insurance, some applicants are entitled to the best rates and terms available. Some have had some problems; a loss last year, a divorce, a partner left...we understand.
5. We will pay you fast. Not only do we hand deliver checks but we also send then Federal Express or UPS Next Day. In addition, we won't let you get hung up waiting for a minor piece of equipment to work or get fixed. If two vendors are involved, or more, we will see that you are paid, even if the other vendors have not fulfilled delivery. We have a "down payment" plan, a "bridge lease" and "master lease" with schedule payments, and "add on" plan requiring only one piece of paper to add on to an existing lease.
6. We can pay in advance or make progressive payments as the job stages are completed. We will help your salesman close a sale. We will explain all programs and alternatives because we prefer the salesman sell the equipment. We will do all the work or let the salesperson do all the work. Whatever works best for you. It is our experience, we can sell the leasing and you can sell the equipment.
7. We will reinforce your sale. Often the applicant asks us about our experience with the equipment. They know we will be collecting payments for sixty months. They know you are not giving us a commission to make a sale. This gives us the opportunity to talk up your company, your equipment, tell them our experience, and why we like to lease finance your equipment.
8. Sixty percent of our business is repeat. This means we take care of our customers. They come back. Often they call us for recommendations. As we get to know you and your equipment, we can recommend you as you recommend us. We can give you referrals and with our recommendation, you will get new sales.
9. We operate using several equipment leasing software systems on a state of the art high speed Microsoft NT network, connected to seventeen individual high speed Pentium III and AMD CPU Microsoft NT workstations, also connected to a CD ROM and Network Fax. There are five separate standalone fax machines. In addition, each PC workstations has its own telephone line, modem, fax sending ability, laser printer, many with both voice and video dedicated internet connections at T1 speed. The main leasing coordination is done by the System 1 WAN and LAN software system. Summit National WAN software is also available. While the company is small, it has a full time MIS on staff. State of the art software and hardware keeps American Leasing highly efficient and costs low to service its customer.
We are located in a convenient area, the triangle hub between the three major freeways in the area, plus San Jose International Airport, with easy parking and an easy to find address. We welcome visitors to see our office and smell the 250+ roses we have growing here.
Invoices
By Gail A. Whitehouse
We Want to pay vendors promptly.
You would be surprised at the number of companies who will not change an invoice. "Dr. Mussone told us he was paying for it. We cannot credit his account and charge you."
One dental company took three months to get us an invoice. The lessee didn't care he had free use of the equipment for over three months. Finally, the regional sales manager typed an invoice on his company letterhead.
All checks from us are sent either UPS or Federal Express. We even hand deliver checks to local vendors.
It is rare for us to tell a vendor "the check is in the mail." We spend over $500 a month with UPS and Federal Express, mostly to get invoices paid promptly.
Our biggest operational problem is not obtaining the credit of the lessee...it is getting a correct invoice.
An invoice is basically a "bill of sale". A bill of sale is a legal document; therefore, the invoice must be correct with respect to the "bill to" and the "ship to". These words state who now has use of the equipment.
Most of the invoices we receive have the "sold to" list the lessee. We cannot accept this. We also need the "ship to" to be the lessee. This acknowledges where the equipment was delivered, confirmed it was not for someone else, and completes the title of the legal bill of sale, almost as if it were a "pink slip" to a vehicle.
As important, the invoice must have an accurate description of the equipment. This means in case of a dispute, there will be no doubt what is described is owned by the buyer.
This means the manufacturer's name, model, and any other pertinent information; a complete description.
Does the forklift have propane, pneumatic tires? Is the computer a 386 or 486, does it have a hard disk drive, and what size? You would be surprised what some dealers send us for their description.
We have seen: "Computer for Betty" and "x-ray Unit for Room #3" and "Item 358A28."
American Leasing has advised equipment dealers for many years that when you issue an invoice, you are issuing a bill of sale. The implication can be very serious because the dealer has passed title to the buyer, or to the entity where the equipment was delivered.
Whether the buyer pays for the equipment or does not pay for the equipment, the title still passes to the person named as buyer on the invoice when the equipment is delivered.
Security interest can protect by stating title will not pass until cash, cashier's check, or a bona fide check is received and then title will pass and the equipment will be considered "sold."
If the dealer has not been paid, it will be up to the dealer to prove in a court of law. Among the many things a buyer can claim is credit, trade, service, or cash, allegedly paid "under the table." It is up to the seller to prove the buyer is incorrect. Often the buyer just stalls and does nothing.
Remember, in the United States, a person is innocent until proven guilty. The same applies to business. The debtor is innocent unless the creditor can prove otherwise. In Santa Clara County, if it is over $5,000, be prepared to wait three to five years to go to court and spend at least $5,000 in lawyer and court fees before anyone gets real serious.
All equipment dealers should have a legal notice on their invoice that title does not pass until a bona fide check is received or accepted by the seller. Consult your attorney.
While most businesses prefer not to seek counsel from an attorney due to the prejudice of cost, having an income producing document "approved" for your benefit by your attorney may be a lot less expensive in the future than the few hours fee to have a "legal" document reviewed to your favor.
We always recommend an order be placed only when we have a signed lease contract and have issued a hard purchase order. This is always the safest route.
It surprises us how many companies will ship and deliver without a signed lease contract, let alone a formal purchase order. An "approval" is not a purchase order. When we try to prepare a legal document, with the requirements of "sold to", "ship to" and perhaps matching item numbers and dollars, after shipment, it takes thirty days or more. The lessee is not in a rush. The accounting department doesn't want to "re-issue" a purchase order. Perhaps there is some difference over the cost of some item.
When we receive a "faxed" or e-mail pro forma or order confirmation before delivery, matching the lease contract and "request to purchase", we are in the best position to pay for the order promptly.