There is no winner for the month of July as the files are lost. For the first two

weeks of August I was on my laptop, and it took a while to reconstruct mailing

lists, and get other things going, while trying to fix my workstation. While

we have a tape back-up, the problem was quite serious.

While we have up-graded Windows 2000 professional with service pack 4 here,

and I did at home, when we tried it at this workstation, it would not install,

and in the "roll back" whipped out the operating system kernels.

We could not install an up-grade version, had to install a full version,

which created other problems, as this workstation has had up-grade versions

stalled starting with Windows 95---so programs that we had from the very

beginning, worked fine. Not with the full version, and a new hard drive,

created network file problems, and it has been a nightmare.

The mail files have not been restored, nor has sound, and many programs.

Not having a full time ISP, also contributes to the problem, but to

sum this up, we are drawing back from the past the first joke Dan

Sorkin won in 1998 ( he has won five times.)

------

Dan Sorkin has been a radio disk jockey for over fifty years. He is 71 years old, still going strong, riding his motorcycle, flying his airplane, doing "vacation relief" on the radio, and expanding his web site, almost like a franchise, all over the world: http://www.stumps.org

He sends many great jokes, plus collects them, for use on the air, his web site, the "Gimpy" newsletter, and for his friends' general amusement.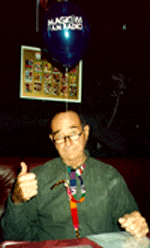 http://www.americanleasing.com/gifs/temp/Danb1.gif

He has been making me laugh since 1964 when I was the news editor at KFRC radio in San Francisco and he was the number one morning disk jockey (he actually beat out Don Sherwood, who "owned" the

local airwaves). Radio is musical chairs and Dan has played the game very well.

He was injured in a motorcycle accident, which changed his life. He writes about the incident in an early edition "Gimpy," the official Publication of "Stumps 'R Us."

It was a sweet summer evening in 1968 in Tomales Bay, California when I powered up my Harley-Davidson motorcycle for the 45 minute ride back to Oakland. I was at the peak of my career in radio broadcasting. After 12 successful years in Chicago, I was invited to join the highest

rated radio station in the country as the afternoon Dive-Time Host on KSFO in San Francisco.

I couldn't believe my good fortune. I had an airplane, a new car, a great apartment in the most beautiful city in the world and a contract that would make me a millionaire.

Then it happened...I took a curve on the Novato highway too fast and left the country road at better than a hundred miles an hour. I totaled myself and the motorcycle! I broke my back and almost every bone in my body. My left leg was a mess and had to go...and it went.

I spent a year in the hospital thinking.

The doctors asked me to visit other potential amputees in the hospital because I decided to adopt a cheerful, positive attitude on what had happened to me. Perhaps I could pass it on to them, give them some tips, answers to problems or questions that I had asked and had gotten answers to.

Although in 1968 the name did not exist yet, "Stumps 'R Us" was born. Through 1989, I had been counseling amputees on a one-to one basis. Doctors, nurses, social workers and others who knew what

had happened began calling me, asking if I had the time to make face-to-face calls... then, ad-libbing on the radio in 1989, I recounted an old story of a very funny encounter with an amputee and asked the listening audience to come up with a name for an Amputee Support Group that had a sense of humor, met socially on a monthly basis, and was for people willing to share what they had learned about life and how to cope.

Since this story, Dan's organization "Stumps 'R Us" has grown nationwide, his web site is visited often. He still has time for face-to- face meetings, hosting non-profit fund raisers, including the Salvation Army, do radio "vacation relief" and considers himself "semi- retired."

He and his wife Jody live at Rossmore, Walnut Creek, California. He requested the pound of Godiva chocolate because he says he and Jody will enjoy it with Cognac.

Sherlock Holmes

Sherlock Holmes and Doctor Watson were on a camping and hiking trip. They had gone to bed and were lying there looking up at the sky.

Holmes said, "Watson, look up. What do you see?"

"Well, I see thousands of stars."

"And what does that mean to you?"

"Well, I guess it means we will have another nice day tomorrow. What does it mean to you, Holmes?"

"To me, it means someone has stolen our tent!"

August 8, 1918 -Alto Sax player Benny Carter Birthday (Died July 12,2003)

http://newarkwww.rutgers.edu/ijs/bc/

http://www.jazzradio.org/benny.htm

http://www.riverwalk.org/profiles/carter.htm

-----------------------------------------------------

E-mail: Kit Menkin <Kit@americanleasing.com>

Date: 08/07/03

Time: 12:29:47

408/800-727-3844 Fax: 408/800-727-3851

-----------------------------------------------------

1588 - This event is mentioned as history may have been quite different for the founding of the United States. The Spanish Armada, a fleet of 130 huge ships, met defeat at the hands of English sailors and their smaller, more maneuverable vessels. Then a series of wicked Atlantic storms off the coast of Southern England took their toll. Only half of the 130 Spanish ships managed to limp ... at best ... home. The 60 or so English ships, plus the weather, saved England from the Spanish invaders.1814-Esther Hobart McQuigg Morris was born at Tioga County, NY, but eventually moved to Wyoming Territory, where she worked in the women's rights movement and had a key role in getting a women's suffrage bill passed. Morris became justice of the peace of South Pass City, WY, in 1870, one of the first times a woman held public office in the US. She represented Wyoming at the national suffrage convention in 18795. She died April 2, 1902, at Cheyenne, WY.

1844- Brigham Young chosen Mormon Church head following Joseph Smith death.

1866-Birthday of Mathew Henson, famous African-American explorer, born at Charles County, MD. He met Robert E. Peary while working in a Washington, DC, store in 1888 and was hired to be Peary's

valet. He accompanied Peary on his seven subsequent Arctic expeditions. During the successful

1908-09 expedition to the North Pole, Henson and two of the four Eskimo guides reached their destination Apr 6, 1909. Peary arrived minutes later and verified the location. Henson's account of the expedition. A Negro Explorer at the North Pole, was published in 1912. In addition to the Congressional medal awarded all members of the North Pole expedition, Henson received the Gold Medal of the Geographical Society of Chicago and, at 81, was made an honorary member of the Explorers Club at New York, NY. Died Mar 9,1955, at New York, NY. http://www.matthewhenson.com/

http://www.arcticice.org/henson.htm

1866-The first queen to visit the United Sates was Queen Emma, widow of King Kamehameha IV of the Sandwich Islands ( later to be re-named Hawaii), who arrived in New York City from England on the

Cuuard liner Java. She was received on August 14,1866 by President Andrew Johnson and

introduced to his family. American business had already started to invest in the island, bringing

coffee, potatoes, hybrid sugarcane, horses and cattle.

1899-Birthday Of Russell Markert, American choreographer Russell Markert, born at Jersey City, NJ. He founded and directed the Radio City Music Hall Rocketts from 1932 to 1971. He died December 1, 1990, at Waterbury, CT. 1899 - A.T. Marshall of Brockton, MA patented the refrigerator. It was not practical in cost for many households and "ice" refrigerators were common

until perhaps World War II.

1876-Thomas Alva Edison of Menlo Park, NJ, obtained a patent for a "method of preparing autographic stencils for printing". He went on to improve the "mimeograph," who until

the advent of the photocopier, was the most widespread method of paper communication

and duplication.

1896-Birthday of Marjorie Kinnan Rawlings, American short story writer and novelist ( The Yearling), born at Washington, DC. Rawlings died at St. Augustine, FL, December 14, 1953.

http://memory.loc.gov/ammem/today/aug08.html.
1900-Birthday of bandleader Lucky Millinder, Anniston, AL.

1911 - Membership in the U.S. House of Representatives was established at 435. Every 211,877 residents of the U.S. were represented by one member of Congress.




1918-Two days after the Battle of Marne ended, the British Fourth Army mounted an offensive at Amiens with the objective of freeing the Amliens-Paris railways from bombardment by the German Second and Eighteenth Armies. More than 16,000 German prisoners were taken in two hours of fighting the first day. The German forces were forced back to the Hindenburg's line by September 3. This battle is considered a turning point by many historians because of its impact on the psyche o f

Germany. August 8 was described by General Erich Ludendorff as a "Black Day" for Germany.

1923-Birthday of singer Jimmy Witherspoon, Gurdon,AR.

1926-Birthday of trombonist Urbie Green, Mobile, AL.

1922-Louis Armstrong, 22 years old, leaves for the Windy City. His autobiography is fascinating

to read about his version of the beginnings of jazz. He perhaps is not only the best known

jazz musicians, but considered even today to have been quite ahead of his time. On old records,

it is easy to pick him out playing the trumpet. He had tone, melody and rhythm that still

wants you to sing, dance, or tap your foot.

1923 - Benny Goodman was 14 years old as he began his professional career as a clarinet player. He took a job in a band on a Chicago-based excursion boat on Lake Michigan.

1932-Birthday of singer/songwriter Mel Tillis, Pahokee,FL. Tillis was the Country Music Association Entertainer of the Year . Equally talented as a singer and as a songwriter, Tillis began his hit-making career in 1958 with "The Violet and the Rose." His top-ten singles have included "Who's Julie," "The Arms of a Fool" and "Memory Maker." Tillis has a speech impediment,

but has made his stuttering a part of his act.

1933-Louisiana Governor O.K.Allen pardon's Huddie William Ledbetter,

better known as the folksinger "Leadbelly.," He got the name while

in prison in Texas for being very strong. He was a very big man with

an explosive temper, and was in for murder. He was pardoned by Texas

Governor Pat Neff from a thirty year sentence, something that was unheard

of in Texas and from the very conservative Neff, but it is said, he sang

a song of why he should be released that so affect the warden, and then

Neff, that they released him. Leadbelly was one of my father's favorite

folksingers, that he played all the time, and my first memories of my

father are listening to this music in the forties. I remember sitting

on his knee, perhaps the earliest recollection of my father, who I miss

more and more as each year goes by.

http://www.nashvillesongwritersfoundation.com/fame/ledbet.html

http://www.blueflamecafe.com/index.html

http://members.fortunecity.com/kgerald/personel/LedbetterHuddie.htm

http://www.cycad.com/cgi-bin/Leadbelly/biog.html

http://www.mala.bc.ca/~mcneil/cit/citlcleadbelly.htm

1933-The first savings and loan association established by the federal government was the first Federal Savings and Loan Association of Miami, Florida. The creation of savings and loan institutions had been authorized by the Home Owners Loan Act of June 13, 1933, to provide a

convenient place for the investment of small and large sums and to lend money to local applicants for first mortgages.

1941 - Les Brown and His Band of Renown paid tribute to baseball's 'Yankee Clipper', Joe DiMaggio of the New York Yankees, with the recording of "Joltin' Joe DiMaggio" on Okeh Records. From that time on, DiMaggio adopted the nickname, Joltin' Joe.




1942-Adding to the fear of the times from both the war in the Pacific and Atlantic, this event

is forgotten by many today. Six Germans were electrocuted this day in 1942 in Washington, DC.

They were part of a group of eight who were tried by a military commission of seven generals. One saboteur, George John Dasch, was sentenced to 30 years in prison, and another Ernest Peter Bruger, received a life sentence. All eight were found guilty of landing in rubber boats from enemy

submarines, carrying explosives, incendiaries, fuses, detonators timing devices, acids, and similar material. Four of them landed on June 13, 1942, at Amagansett, NY, on Long Island, and were discovered by Seamen Second Class John C. Cullen of the Amagansett Coast Guard Station. Four others landed on June 17, 1942, at Poine Vedra Beach near Jacksonville, FL.

1951-Birthday of Randy Shilts, journalist known for his reporting on the AIDS epidemic. One of the first openly homosexual journalists to work for a mainstream newspaper and the author of And the Band Played On: Politics, People and the AIDS Epidemic. Born at Davenport, IA, and died at

Guerneville, CA, Feb 17, 1994.

1960- British Decca destroyed 25,000 copies of Ray Peterson's death-rock song, "Tell Laura I Love Her." The company refused to release a song which it said was "too tasteless and vulgar for the English sensibility." A rival firm, however, had no such compunction, recording a cover version by

a singer named Ricky Valance, which went to number one on the British chart. In the US, Ray Peterson's recording of "Tell Laura I Love Her" reached number seven on the Billboard pop chart.

1968- Race riot in Miami Florida.

1969-Photographer Iain Macmillan took six pictures of the Beatles crossing the street outside their Abbey Road studio in London. A police officer held up traffic while the band walked back and forth several times. Paul McCartney chose one of the pictures for the cover of the "Abbey Road" album.

1970-New York Yankees honor Casey Stengel, retiring his number 37.

1970- Janis Joplin bought a tombstone for blues singer Bessie Smith's unmarked grave in a Philadelphia cemetery. Less than two months later, Joplin herself was dead of a drug overdose. Smith had died following an auto accident in 1942 at the age of 37.

1973-Vice-President Spiro T Agnew brands them "damned lies" regarding reports he took kickbacks from government contracts in Maryland. He vowed not to resign; that he was innocent.

1974 - Roberta Flack received a gold record for the single, "Feel Like Makin' Love". Flack, born in Asheville, NC and raised in Arlington, VA, was awarded a music scholarship to Howard University in Washington, DC -- at the age of 15. One of her classmates became a singing partner on several

hit songs. Donny Hathaway joined Flack on "You've Got a Friend", "Where is the Love" and "The Closer I Get to You". She had 10 hits on the pop charts in the 1970s and 1980s.




1974-President Richard Nixon announced in a televised address that he would resign. Three days earlier he had released tape transcripts revealing he had impeded the Watergate investigation. Nixon told an audience of some 100,000,000, he had made some wrong decisions but that he was

resigning because he no longer had enough support in Congress.

1975- country singer Hank Williams Junior suffered severe head injuries when he fell 150 metres while mountain climbing in Montana. When he returned to performing months later, he had switched to a country-rock sound from the pure country style made famous by his father.

1976-The Chicago White Sox made baseball sartorial history by donning shorts for a game against the Kansas City Royals. The Sox won, 5-2, but the shorts, a novelty thought up by owner Bill Veeck, lasted only a while.

1981-Shiaway St. Pat, driven by Ray Remmen, won the Hambletonia, the most important race for three-year-old trotters, contested for the first time at the Meadowlands in New Jersey.

1984 - Carl Lewis won his third gold medal at the Los Angeles Olympics. He won the 200-meter sprint. At the same time, Greg Louganis received his first gold medal in diving in the springboard competition.

1986- singer David Crosby, sentenced to a five-year term for drug and weapons charges, was paroled from a prison in Huntsville, Texas after serving only five months. The convictions were overturned by a Texas appeals court in November 1987- Crosby said when he was released that he had kicked a ten-year drug habit and wanted to resume his musical career. He gained fame with the Byrds in the late 1960's, then teamed with Stephen Stills, Graham Nash, and Neil Young.

1988-The first night game of Chicago's Wrigley Field was postponed by rain with the Cubs leading the Philadelphia Phillies 3-1, in the bottom of the fourth inning. The Phillies' Phil Bradley let off the game with a home run, but in a postponed game, all statistics are washed out.

1990- Iraq annexes Kuwait. The US has been sending troops to Saudi Arabia

and moving the US Navy into the Mediterranean seas.

1992- heavy metal fans trashed part of Montreal's Olympic Stadium following the cancellation of a Guns N' Roses concert. Lead singer Axl Rose halted the show after a few songs because of a sore throat. That prompted the rock-and-bottle throwing rioters to use everything from an uprooted street lamp to metal barriers to smash windows in the stadium. Damage was pegged at about $300,000. Eight police officers were slightly hurt and a dozen people arrested. The head of the Olympic Stadium banned Guns N' Roses from returning to the facility and sent letters describing the riot to stadiums across North America. Pierre Bibeau described Rose as having "no respect for his fans." The premature end to the Guns N' Roses set was the second glitch of the night. The previous act, Metallica, had to end its performance when lead singer James Hetfield was burned by an exploding stage prop. His injuries caused the postponement of several dates on the tour by the two bands.

Three years to the day after the aborted concert, Metallica sued promoter Donald K. Donald for $254,000, claiming they were never paid for the show. And in December 1995, an out-of-court settlement awarded spectators to the aborted show $300,000. The money went toward legal fees and to charity.

1993-The Dream Team, a specially-assembled team of NBA all-stars, defeated Crotia, 117-85, to win the gold medal at the 1992 Summer Olympics in Barcelona. The Dream Team, coached by Chuck Daly,

including Charles Barkley, Larry Bird, Clyde Drexler, Patrick Ewing, Magic Johnson, Michael Jordan, Christian Laettner, Karl Malone, Chris Mullin, Scottie Pippen, David Robinson and John Stockton.

1994- Janet Jackson tied Aretha Franklin for the most gold singles by a female artist - 14 - when "Any Time, Any Place" was certified as having sold more than 500,000 copies.

1995- the Canadian stage production of Disney's "Beauty and the Beast" opened at the Princess of Wales Theatre in Toronto. At $17 million, it was the most expensive stage production in Canadian history.

1998-The largest free jazz festival in the world, San Jose, California, draws 200,000 to hear Sandoval, Broadbent, Schuur, among many others. In fact, tonight, 2003, going to see the

Count Basie Band at a special preview and concert at Santana Row, San Jose. I have many

great memories of seeing the Basie band since I was 14 years old and stood outside

the kitchen at a club in Los Angeles, to seeing at many other places, and shaking

his hand with my kids at Circle Star, San Carlos, California. When I had my dance

bank in high school and college, we had many of his band's arrangement in our book. While I have many favorites from the Atom Bomb album to the Newport Jazz Festival, one of my favorites is the 1966 Frank Sinatra at the Sands with the Count Basie Band. Sinatra just turned 50 and makes jokes about it with Basie, and the band never played better, and Sinatra was terrific, also. "Sent for You Yesterday..." We had Warren Luening,Jr., playing lead trumpet in the band, and Chris Morgan on third ( think Dave Silverman played second or fourth, can't remember, except

he was primarily a Dixieland trumpet player). All three were cut ups, had two many

girls at rehearsal, but no one could hit the high notes that Warren could hit and hold. And he

played things right the first time. He could read, had great rhythm and was born with perfect pitch. He went on to graduate from UCLA and then the Air Force band during the Viet

Nam war. He had great class then. And still does, today. Great dresser, too; always stylish. He can be heard on movie recordings, studio recordings, and is in great demand in Hollywood. I'm really looking forward to tonight. I wish Warren were there with me,

with his lovely wife, Stella.