The rules are simple to win: No "xxx" jokes, sorry. Kit Menkin cannot win (relatives, friends and employees can enter and win). Please note, if in the decision of the judges there is no "best" joke, a previous month may be included, and like in horseshoes, there are no ties. Winners of previous months can also win a second or third time - There is no limit.
Please send me your favorite joke. The first one to send it, not only gets the credit, but a good bottle of wine or a box of chocolates (the winner's choice).

Winner for March 2003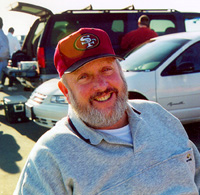 This is the second time we have done this sending out jokes. There is no winner for the month of March, so we have gone back to the past and chosen April 1998,
up-dating the biography of the winner.
Walter J. Lunny, III, known as "Wally" His prize," some "Johnson" t-shirts from www.coolrags.com
Wally lives in San Francisco with his wife, Charlene. The Lunny's have two sons, Chris and Peter and a yellow lab named Max. Chris is a graduate of UCSB and the SF Culinary Academy. He is currently working at Oracle and plans on starting law school this year. Peter is a graduate of Saint Mary's College in Moraga, currently working in the Emergency Room at St. Mary's Hospital and plans on attending medical school in the fall. Max loves to eat and helps teach other dogs new tricks. They also spend time at their ranch in Glen Ellen, Sonoma County, Jack London territory.
The whole family loves to cook good food and drink good wine and plan in a few years to open a family winery and share their food and wine with friends.
Walter J. Lunny, III won this award, with several close runners-up, and the decision was made fair and square, although I should declare he has been my best friend since I worked at KFRC in 1963.
Lars and Eric
Eric has been in the internet and computer business for 25 years and is finally sick of the stress. He sells his company and buys 50 acres of land outside of Placerville as far from humanity as possible. Eric sees the postman once a week and gets groceries once a month. Otherwise it's total peace and quiet. No computers. No internet. No telephone calls.
After six months or so of almost total isolation, he's finishing dinner when someone knocks on his door. He opens it and there is a big, bearded man standing there.
"Name's Lars... Your neighbor from four miles away...Having a party Saturday... thought you'd like to come."
"Great," says Eric, "after six months out here I'm ready to meet some local folks. Thank you."
As Lars is leaving he stops, "Gotta warn you there's gonna be some drinkin'."
"Not a problem... after 25 years in the computer business, I can drink with the best of 'em."
Again, as he starts to leave Lars stops. "More 'n' likely gonna be some fightin' too."
Eric says, "Well, I get along with people. I'll be there. Thanks again."
Once again Lars turns from the door. "I've seen some wild sex at these parties, too."
"Now that's not a problem" says Eric, "I've been all alone for six months! I'll definitely be there ... by the way, what should I wear?"
Lars stops in the door again and says, "Whatever you want, just gonna be the two of us."
---
Current year Joke of the Month winners

January
Connie Kreibel
Vallejo, California
She wins a two pound box of
Schurra's European Chocolate
from Schurra's Candy Factory,
San Jose, California

February


Jeffrey H. Reynolds, Ph.D.
Bethesda, Maryland
"Dachshund in Africa"


His prize a bottle of 1996 Rombauer Napa Valley Merlot.