$18,000 Write-Off
We do not give tax advice, so consult your tax attorney or accountant... but if you have not purchased tangible property this year, you may write off up to $18,000 in 1997 with a Capital Lease with only a one month security deposit.
Each year, the Internal Revenue Service allows a complete deduction of equipment delivered in the taxable year that the deduction is taken. This year the dollar amount is $18,000.
If the equipment cost is more than the allowable deduction in a given year, the lessee may depreciate the excess with a Capital Lease. This means if you have already spent $5,000 on tangible property, you can deduct an additional $13,000 in 1997 with a purchase (paying cash) or utilizing a Capital Lease; obtain this deduction with one lease payment.
Call us at 408 or 800-727-3844 or talk to your tax attorney or accountant
---
.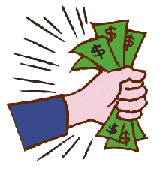 The Best Bang for the Monthly Buck
The situation is very similar to "When should you replace your automobile?" Is it cheaper to up-grade the old with the new, faster parts or obtain a new business computer (yes, American Leasing does lease up-grades)? What is the "Best bang for the monthly buck"?
Many computers you cannot up-grade. There are many that can be up-graded but the parts can only be obtained from the manufacturer at a cost much higher than the marketplace, or the manufacturer has specifically designed the computer so it cannot be economically up-graded. These include Apple, some Compaq, some Dell, some Gateway, all IBM, Packard Bell, Silicon Graphics, Sun Microsystems, and many more. You must buy new for the latest speed and hardware.
The main decision is two-fold: when is your computer obsolete, and if obsolete, should you buy new or up-grade what you have for the "Best bang for the monthly buck"?
"There is no real difference between 166Mhz CPU and 233Mhz CPU to the average user. But you know the craze, always up-grade regardless of price," an executive with one of the largest producers of microchips and software to the world told me.
"In processing speed though, I don't think you can really tell in applications such as Excel, Word, and most client/ server based accounting software. Definitely in graphics and on the Internet," he added.
Frank Marra of FMA International in Saratoga, California, a computer network specialist, believes more effort should be spent in education than improved hardware. "I think you will get better productivity by providing more training to your staff than by using faster computers. Most of the time computers are waiting for people, not the other way around."
Regardless, at American Leasing, we up-grade our personal computer hardware about every six months. We have a full time MIS manager. We enjoy doing it. We like to choose the components. We then know how to fix it when something goes wrong.
Speed is extremely essential to us. Processing applications, credit, contracts, funding leases faster and faster with less mistakes is paramount to us. We feel we must up-grade at least twice a year. "The average hardware up-grade for a business is two years," according to Larry Faber, President of Input-Optics in Mountain View, California.
"We advise clients to wait, although we could pick up a lot more business if we encouraged an up-grade with every drop in price Intel seems to make," Faber says. "Money can better be spent by teaching users more about their existing software programs."
There appears to be a real dichotomy in the business world: those who are comfortable with their present system; those who want more, faster, beta this and beta that.
There are generation changes coming this first quarter, as Windows 95 users will migrate to Windows 98 or NT Workstation.
Apple, O/S 2, Windows 3.1 and Workgroup for Windows users will be lucky to stay at their same percentage of use. This also does not include the dramatic computer network growth for business users with Microsoft NT. American Leasing has moved to Microsoft NT, plus our hardware is up-graded every six months using a "passing down the line procedure." We also move to the latest versions, free up-grades, and find patches with "Oil Changer" and "Fast Find." The "have's" and "have-nots," do not seem to follow the same trend with software. The "haves" may have a faster CPU, hard drive, more ram, better video card, but they appear reluctant to continually up-grade software and train employees in their usage. They also appear comfortable with a faster performance on the older version of software.
"I've looked at the Eudora 3.0 product, and I really don't like the new user interface," says Eric Shih, Web Master at Webholder.com. "It's broken up into windows and frames which leaves little viewable space for the message body."
"The same is true for Netscape mail and MS Internet Mail," he adds, "I'll stick with Eudora 2.2."
A Telemagic authorized dealer does not recommend the up-grade to version 14.5. "Telemagic lost it with Windows and their improvements with the DOS version slow the program and make it more complicated," Carl Litlestopple of Profit technology, Saratoga, California, says. "Save your money, don't up-grade. I won't sell it to you, Kit."
If you are interested in obtaining most recent report on CPU speed comparisons, please contact us by fax at 800-727-3851 or at kitm@americanleasing.com.
---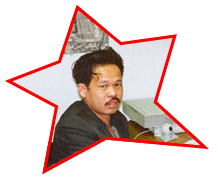 Dzung Vuong, Manager, Information System Manager
He is in charge of a thirteen computer network system, consisting primarily of Pentium 200MMX, and AMD K6 233mhz personal computers on a Novell and NT network, along with Fax and CD ROM network. He is also involved in the internet expansion and keeping the company on the leading edge of personal computer software and hardware development. He is presently working toward his Microsoft NT certification.
He has built over twenty-five computers for us, friends, and relatives, up-grading seven computers, not including an up-grade of our Novell server and new NT file server. He also is "on-call" for our clients and customers who need computer help.
Dzung (pronounced Dun-ng) was formerly with NCA Computer, Sunnyvale, as service technician. Prior, he was a service technician at Fry's Electronics, Campbell and University Systems, San Jose. He has over seven years experience (more importantly, he keeps us going here at American Leasing, a tough challenge as he works for a boss who is a "software junkie" and is always trying out the latest hardware to learn if they live up to their press releases).
He was born in the Kien Giang Province, South Viet Nam. He then graduated from Kien Giang High School, and attended Evergreen College. He received both a technician's Certificate and A.S. degree from Heald Institute of Technology, Milpitas.
Dzung lives in San Jose with his ten year old son, Hoan. His hobbies include studying new software, computer challenges, and traveling.
---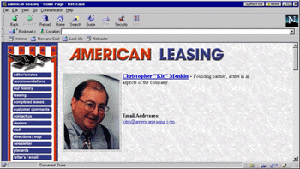 http://www.americanleasing.com
Our site is not just about us. We recommend companies, services, places to go, eat, stay, and what's happening in Silicon Valley. You can also download a copy of your favorite placard, see our humor page, or learn what is a bogus e-mail at Virus-Not!!!
Join Kit's E Club for the latest about computers, software, or local business ( you will not only get this first hand, but learn it here first, and often different than hype you read elsewhere ) or ask to join our humor group. There is no Spam, no advertising, no banners.
Contact: kitm@americanleasing.com
---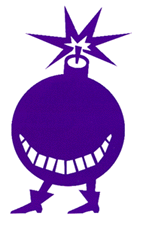 Virus Not!
On our http://www.americanleasing.com you will find a tool bar that will lead to a section about phony warnings and chain letters circulating the World Wide Web.
The most bogus circulated ones are:
1) Pen Pal Greeting or Join the Crew. You cannot get a virus from reading e-mail. You can get a virus from downloading an executable file, such as one with an .exe or .dll at the end of its title. DON'T download any file unless you know who it is from with any executable nature. However, this virus warning is a hoax.
2) The Neiman-Marcus Cookie Recipe. Boy, you are really gullible if you believe this one. It has been floating around the internet for over five years, maybe longer, but I saw it five years ago. I also confirmed directly that it is bogus. The department store never had a cookie recipe, no one was charged $350 in error, and VISA may make mistakes, but this isn't one of them.
3) Girl with Cancer. A real tear jerker, but it isn't true. There is no Jessica Mydek. There is no Jean Ann Linney. The telephone and fax numbers are inoperable. There have been so many inquiries the American Cancer Society has made this statement on their home page: American Cancer Society: Fraudulent Jessica Mydek Chain Letter
This statement may be copied or reprinted by users. The American Cancer Society is greatly disturbed by reports of a fraudulent chain letter http://www.cancer.org/chain.html
We invite you to visit http://www.americanleasing.com to learn more about what virus and phony chain letters are circulating the world wide web. Please also look at our other features, including downloading a copy of one of our placards or learning more about equipment leasing, and our recommendation section.
---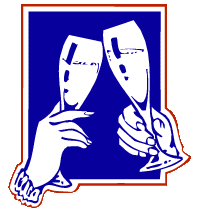 Editor's Notes
1997 was a very good year. My youngest daughter got married to a great guy. I am both very lucky and proud. The economy was so good, we even did better. I am told that if you did not make a profit in 1997, you never will. The economy was that good. I know you could not get contractors, and things were sold out very quickly, particularly in certain clothes sizes. And retail prices dropped (except for gasoline). Computers and other appliances have never been cheaper.
Service costs went up. It seems whenever the economy heats up, try to get any labor, even or especially housekeeping, as everyone wants the wage of a UPS driver.
Investors in land, stock, and almost everything had a very good year.
Down to basics, the best comment I can make is with our placard we include in this newsletter. It came from Hillary Lassiter at Quality Tune-Up. "Happiness is Positive Cash flow."
If you are interested in getting one of our previous placards, or more of this one, you may download it from our web site http://www.americanleasing.com. or e-mail me at kit@americanleasing.com or send me a fax at 800-727-3851.
Also if you would like to be on our electronic address list, no "Spam," but some good information from time-to-time and sometimes a good joke to help take the stress out of the day, let me know.
My best Holiday Wishes to you and your company, your staff, and family.