---
The Economy - How Strong is It?
The economy has never been so strong here in the Silicon Valley.
On the Internet, one of the jokes sent around is you are a Californian when you: " Don't ask for the price, but when" This applies in California, where you hope your daughter is not dating a medical student, but an electrician or cabinet maker.
Try to get a contractor here. Houses: the mother of a person in our office is retiring to the Gold Country, selling her house in Santa Clara, and Sunday she had an open house. Before the listing was out, she had sixty visitors, twenty-five offers, and twelve of them over the listing price.
The growth has been so dynamic, better than the defense industry ever was. Venture Capital gave Silicon Valley $3.66 billion in 1997, exceeding the 1996 total by a very healthy 63 percent, according to the San Jose Mercury News/Price Waterhouse LLP Money Tree study.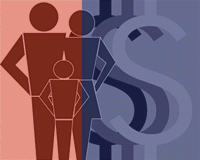 Companies merged, were bought, and the entrepreneurs did not retire, they started another company. This success was everywhere from retail to manufacturing to all service industries, including tourism. This phenomenal growth despite the first record breaking deficits that started in January, "…to the highest level in a decade as the financial crises in Asia depressed demand for American goods in that part of the world."
At eighty-eight months and counting, the U.S. economy is currently in its third longest stretch of growth since World War II. Only the 106-month expansion of the 1960's and the 92 month expansion of the 1980s to the early 1990s have been longer.
"Employment growth has outstripped labor supply since 1995", Douglas Henton, president of Collaborative Economics of Palo Alto was quoted in the San Jose Mercury News. "We're starting to wonder how the valley can continue to maintain this growth rate."
According to the article, "We are still very much in the Internet era…where 53,000 jobs were added last year to this industry alone."
Despite chip industry layoffs, companies cannot find enough engineers or designers and the colleges cannot produce them fast enough.
Silicon Valley has also grown to include not just Santa Clara and the lower part of San Mateo County, but Gilroy in the south, Scotts Valley in the west and Fremont and Milpitas in the east. This region now generates 40 percent of California's exports, despite having only about 10 percent of the state's population.
U.S. statistics report Silicon Valley surpassed Detroit as the nation's leading exporter.
May, 1998 saw the most automobiles sold in the United States since 1986. Alan Greenspan, Chairman of the Federal Reserve Board, declared this period to be the best mix of growth and non-inflation since World War II.
While the air waves continue with more bad news from overseas, our economy appears stronger than ever. At American Leasing, we see delivery of equipment, telephones, computer systems, large air compressors, being pushed further and further out. Meaning four to six weeks for delivery which can be eight weeks for furniture, telephone systems, and other equipment.
We would like to hear from you. Our response card has a place for "city." We then can report the local response by "city" or "area."
---
New Survey - Why Businesses Lease?
National Business Institute reports an recent survey indicates the Top Five Reasons for Choosing Leasing: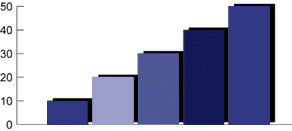 41% Cashflow - capital outlay.
18% Rapid technological changes cause product obsolescence.
10% Financial requirements are not as stringent.
10% Leasing companies are more accommodating than banks.
8% Tax implications.
#1 The tax laws with "investment tax credit" at one time favored leasing more than it does today. The IRS allows five-year depreciation on computers and eight years on software. This really is six and nine years, unless you are starting the first of the year.
A shorter lease gives a faster write-off, but most people today want a longer term. The "tax implications" are not as important as "cashflow." Cash is needed for inventory, personnel, marketing, research and development, or just plain "working capital". Customers pay in thirty days (or longer ), so a company is always living on it's "working capital".
#2 Profits are generated by the use of equipment. Who owns it makes no difference in that fundamental fact. And if the equipment is going to be obsolete in two or three years, you don't want to own it. You want to trade it up, or at least have the ability to up-grade it, if it has anything to do with computer processing speed or software.
#3 Banks like $100,000 and $500,000 transactions. The rates are also variable, although on some large SBA secured loans, the rates are fixed. Often the bank has a "working capital" loan or "accounts receivable loan" and to require more credit, the process is not only time consuming, but may affect your existing loans.
#4 Leasing companies are often more familiar with the equipment. Their niche is often not understood by other lenders (including other leasing companies). Many leasing companies take advantage of the depreciation or obtain money direct as banks due and can offer lower rates or be more liberal in their credit granting process as they have a higher loss reserve or are more active in the collection process so may be more liberal in granting credit.
#5 Leasing still has more tax incentive than any purchase of capital equipment, once you exceed the yearly allowance (around $18,000). Don't kid yourself, cashflow is important, but getting tax benefits should be higher up than the survey indicated. Unless you like paying more to the government for their wonderful work, leasing still is better to go on all equipment, especially if it has a useful life of over five years.
---

If you would like to receive our monthly electronic financial newsletter, primarily about the local economy, hardware and software tips, please fill out our Poll Response card or e-mail me directly at kitm@americanleasing.com.
We do not sell e-mail addresses or share them with anyone. They will be kept confidential.
To learn more or see previous reports, "jokes", and internet tips, you may go to our web site at : http://www.americanleasing.com. Click on "E-Mail Club."
.

Patty Han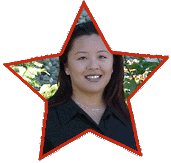 Patty Han joins us to manage our credit administration. This is a new position for her. She is a faster learner. She is a graduate of San Francisco State University.
She worked for Bank of America for five years, plus Arescom, Fremont, where she researched on the internet for product advertising in the marketing/sales department.
Her hobbies include golf, skiing, snowboarding, plus she enjoys flowers arrangements.
At American Leasing, Patty treats us all to fresh roses and flowers at our desks. Everyone enjoys the arrangements she creates from our two hundred plus rose garden here.
Jennifer M. McCormick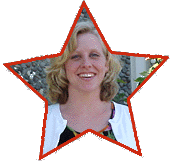 Jennifer M. McCormick is the new administrative assistant to Christopher "Kit" Menkin. She is responsible for his schedule, correspondence, advertising and public relations projects, plus serves as office administrator.
"Jen" also assists, when needed, in the operation department in credit and funding, plus helps in accounts receivable. She is definitely our "utility" person.
She previously worked for four years at Felco Commercial Service, an automobile leasing company, in Cupertino, California.
She is a single parent, taking care of a three year old son, Brandon, who takes after Jen's late father.
Kit Menkin, coincidentally, worked with Jen's late father, Bob Molseed, before she was born in the late sixties and early seventies at Triple C Leasing. American Leasing helped him with leases when he started Cal Coast Signs.
Bob Molseed was a workaholic, but played hard, too. A great guy. We consider ourselves very lucky to have "Jen" here at American Leasing.
---
This is the first editorial in twenty-five years . I have tried to stay neutral in this business newsletter as I want to increase business, not get my customers angry at me or stop doing business with me because I have a different opinion than they. But I think: Microsoft is being treated unfairly. Just because they have a lot of money and are a successful company, Bill Gates is fair game. I am not against a good joke or making criticism about a product or service, but the news media is quite one-sided with this Microsoft Windows 98 story.
We in business are also making a big mistake if we think the government is good for business. Our silence is encouraging both Democrats and Republicans to make laws defining what a company can and cannot put in their software product.
There are many browsers in the marketplace. Pixel has a "MySpace" bar that sits under Windows 98 that allows you to make changes here, taking away the exclusivity of the Microsoft® desktop layout, including other gateways to the Internet.
It is not just the government versus Bill Gates. It is the government versus business. Sure Netscape, Oracle, and all the others are promoting this. They are not only jealous, they want to handicap Microsoft® for their own gain. Simply put: It is not good business to encourage the government to regulate software. We in business will be the losers.
Netscape may be losing some of its share of the marketplace, but a lot of this is because they are not keeping up. They had a "monopoly" for several years. Now Microsoft® is giving them competition. Well, there are others out there, too, such as Opera, Netmanage Web Surfer in Unix. Let's let the marketplace decide what goes in a product, not the U.S. Government.
The Explorer is part of the Microsoft® Suite of products. If you don't like it, use another browser. If you don't like MS Money, use Quicken. If you don't like Word, use Word Perfect. There are many software products available, and whether bundled or not bundled, the marketplace will choose what it likes. We don't need more governmental regulations—We need less.
Kit Menkin