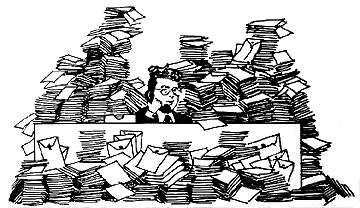 The purpose of this placard is to place a photo of your face or anyone in your office, if the desk looks like mine.
Sometimes my desk is so bad, I have files on the floor, too. This does not count the two credenza's, the two side tables, or the file organizer console behind me. I greatly admire people with a clean desk. I have been trying to accomplish this feat for twenty-five years at American Leasing.
Sometimes I think I am simply a pile shuffler, going from one piece of paper to another. It gets depressing.
I really prefer to be away from my desk, visiting existing customers and meeting new customers. One of the reasons for our modest success is getting to know all our clientele on a first name basis.
---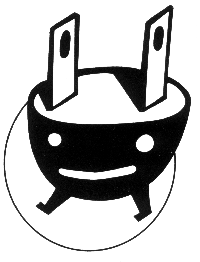 HTTP://BOULEVARDS.COM /BILLBOARDS/AMLEASING/
I received in the mail today an Internet address book for Gray Cary Ware & Freidenrich, a professional law corporation, very active in Silicon Valley. In both their Northern and Southern California offices, the address book lists staff and attorneys' private Internet E-mail addresses.
Pat Adair of Silicon Valley Law Group, president of the Santa Clara Bar Association (and a client of ours ) is developing a Bay Area attorneys' network for exchanging files and other information at extremely high speeds.
Many of the Internet services not only offer their gathering of information and products, but access to the Internet both for e-mail and voice (yes, you not only can e-mail and send files, but also talk just like you do on the telephone, but for a lot less money). NetScape in Mountain View, California went public and made all the founders multi-millionaires. All they did was develop a software program and service to enter the Internet (and provide service and support) and produce the disks and market them, but they wrote a software program to enter a "free" connection known as the "highway."
The Internet has been around since the 1950's. It was developed in a joint effort by the Military and Universities in the United States to share information. It is not controlled by anyone. Anyone can use it. You need the end user's password to enter their switch to get on their part of the railroad track. The "on line" service is like a train station. Users enter here. They can also add their own switches on to the track, if they want to build it themselves.
Amateur and professional software users have been traveling the network tracks, also called the "highway," for over thirty years. The popularity grew along with the development of what is now known as the "personal computer" (this means you don't have to tie into a main frame to use it, and originally it meant a "small" computer with not much space or capacity). Today the computer I am using has more power and storage than any in the 1950's dreamed would be so available and so inexpensive compared to the computers they were using in the Fifties when the Internet was started without any controls or fees for use.
The advent of inexpensive personal computers started "service providers." They wrote software to connect to the network as a distributor and sold subscriptions to access their services via the Internet. Delphi, Genie, Prodigy, and many others first connected university students. This grew, with Microsoft now the leader with over 4 million users (America On Line has 3.5 million, and CompuServe 3.2 million). Microsoft will continue to be the leader because of their marketing along with Windows '95 (they included it with the installation and up-grade, whereas companies like AOL must put disks in every magazine and mail over and over again--I know people who have two dozen disks they use saving other files). This explosion has led to the ability of everyone having a "home page" in this Universal encyclopedia of information. Individuals, associations, clubs, companies, or anyone with the knowledge to do so, could create a section in the "encyclopedia". Any subject from baroque music to Elvis Presley, complete with music, pictures, even video ... all accessible for free (or if you belong to a service, a monthly time usage fee).
Businesses soon started realizing the financial potential available on the Internet.
Steve Jobs, one of the founders of Apple Computer and now the president of NeXt's WebObjects, explains it best in a recent edition of Newsweek magazine:
"People will eventually do four different things on the Web. The first is static publishing, where someone creates a Web page that doesn't change unless they themselves chage it."
"Second, dynamic publishing, where the computer constructs the Web page on the fly based on input from the user and information from a database. A perfect example is the Federal Express Web site, where you in your package number and it tells you its delivery status with no human intervention."
"Third, commerce. To do it, you have to hook the Web to your internal computer systems so you can take orders from the Web (buying and selling using the personal computer; it is being done now by many retailers who have stores to display their products or just warehouses or are pure distributors who do not stock but take orders and have wholesalers or manufacturers ship direct)."
"And fourth is internal custom applications, in which a corporation puts its own applications--like a brokerage's program to buy and sell stock--- on the Web so that any department, whether it's running Mac's or PC's with Windows, can access it."
The American Leasing Web site tells about our company, plus is interactive. You can complete a credit application and E-mail it to us (and if you want to include financial statements and tax returns, they can be attached and sent along at a fraction of the cost of telephone by fax, and is not only cheaper than Federal Express, but much faster).
Perhaps not everyone is to this point today, but with speeds now up to 38,400 baud on such services as America On Line, where you can download files (and you don't often need a faster modem, we have one computer with a 14,400 modem that connects to America On Line at 38,400 baud ). The Internet is not "hype." It is here. My advice: Get on board, or be left waiting at the Internet train station.
You may obtain "off the shelf" hardware to create your own "home page" and there are also many service providers, I suggest you approach this as if hiring an advertising agency to write a television commercial for you.

NEXT

TOP