American Gumball Machine Company
www.antiquegumball.com
If you are looking for sugar free gumballs for your gumball machine, here is the place. They sell new and antique gumball machines, too, including parts. Great service. We recommend this place to you.
Hurst Berries
http://www.hursts-berry.com/
Hurst Berries---This came from a Safeway Blueberry label. To really enjoy this site and the hot links in the berry industry you need x2 or ISDN ( T1 is best, of course ). The industry links are fascinating, extremely well-done and a great illustration of how the internet is changing our lives (especially on the farms---they are as current, or more current, than most of us in Silicon Valley---you have to view their marketing, education, thoroughness, and understanding of their business). Wow!!!
Please also visit these pages on Hurstberries:
Take time to explore this site, one of the best I have seen on the World Wide Web.
*** * ***
Fromages.Com
www.fromages.com
France's most visited and best loved Cheese Website
(can be delivered with 48 hours)
*** * ***
http://www.losgatosmeats.com/
575 University Avenue
Los Gatos, Ca.
95030 408-354-7055
lgmeats@losgatosmeats.com
John & Donna Chiala
Get Map Here
This is where I go to get the meats for the tailgates at the San Francisco 49ers and Oakland Raider home games. I also like to get special cuts of meats for special dinners or parties. While Gene's Market in Saratoga, Lunardi's in Los Gatos or Draeger's in Los Altos, have top quality, here I choose the size of the cut, the type of meat, and can order special tenderloin or have ready for me to pick-up. Great jerky, too. Very popular with hunters who bring in their "game" to be processed.
*** * ***
Kona Coffee
www.konacafe.com
Allan Frank grows the coffee at his farm in Kona. While we were there, we discovered this California family, who grow the coffee, ship it to California, where they store and roast the beans. It evidently started for a series of coffee shops they would like to open, but has grown into a wholesale/retail coffee outlet.
This is not the "cut" versions you find on the supermarket shelf, or even some coffee shops. It puts Starbucks, Peets, and others to shame.
The coffee has no bitterness, is excellent, so good, I even make it stronger as the taste is delicious. I don't know how to describe it, but it is like drinking coffee ice cream, but not as sweet (unless you like it that way ). I put no-fat milk in mine, as I have been drinking Latte's before I knew there was a word for it.
You can order on line, or by fax, or telephoning: 800-900-KONA (5662)
Raley's
www.raleys.com

Safeway Foods
http://www.safeway.com/

Includes a great shopping list and other features.

*** * ***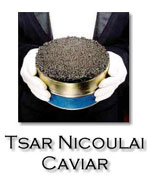 California Sunshine Fine Foods
144 King Street
San Francisco, CA. 94107
Website: www.tsarnicoulai.com
The Website has a history and list of the products with current prices.
Here is some information not on their website, from a caviar tasting that we have experienced. By the way, this firm has their own "caviar farm" in Northern California, eight years in the making to produce caviar.
In our blind tasting group, we all liked the "Farmed Osetra Caviar" better the the imported. American Sturgeon Caviar also was very good, and one of my old time favorites, Gold Pearl Salmon Caviar was outstanding.
Caviar Tasting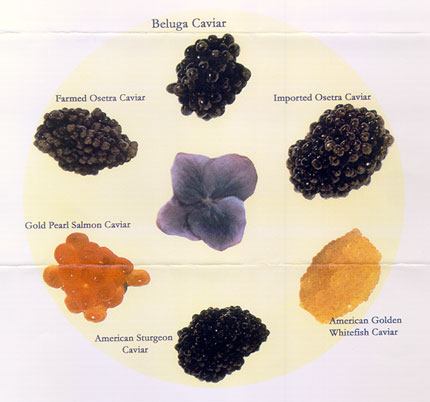 Tsar Nicoulai Caviar Brochure
Page 1 - Cover Page
Page 2 - History
Page 3 - Reviews
Page 4 - Different types of Caviar
Page 5 - Cont... different types of Caviar
Page 6 - Champagne Flutes