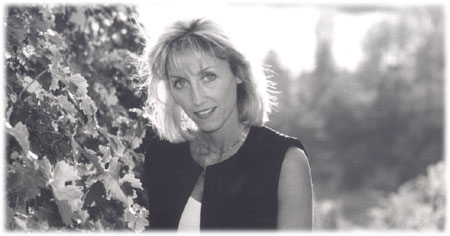 Delia Viader, Ph.D.
Owner / Winemaker

Viader Wine
(pronounced "via-dare")
www.viader.com



Viader Wine
Deer Park, California
(707) 963-3816
Fax (707) 963-3817


Mailing Address:
Viader Vineyards
P.O. Box 280
Deer Park, CA 94576
The proprietor Delia Viader on Monday, October 15, told me they were just finishing harvesting their grapes.
"We harvest late because we want to get the maximum flavor from Mother nature on the grapes...I can do well in the cellar but I cannot ADD flavor that's not there to begin with plus we harvested petit verdot which is the latest in ripening because of the varietal type... it only took us almost a month this harvest to get everything in :-)
Appointment Only. It took me over a month and several calls to make an appointment. Only 5,000 cases are produced each year. This is perhaps the best red wine made in Napa County. The 1991, their last unfined, is drinkable now and superb. You can get it at some of the California Café's or Napa Valley Grille in Yountville. I know of no retail outlets. The wine is sold to their mailing list and 1997 will be out in September ( all the rest is sold ). Most likely you should wait a minimum of five years to drink this outstanding marriage of Cabernet Sauvignon and Cabernet Franc. The proprietor is Delia Viader, born in Argentina and raised in France. She is the most beautiful wine maker I have ever met, making the most beautiful California red wine I have ever drank, and the view from her living room of the valley and lake below, you will never forget (if you are lucky to get invited in ). I am a Mt. Howell red wine collector, as I think this region makes the best Merlot/Bordeaux style wine in the United States ( ironically there is no Merlot in her wines). Her web site http:www.viader.com gives you the opportunity to learn more. If you are not a collector, I recommend the small 375ml bottles as the wine matures more quickly in smaller bottles and is just right for a romantic twosome. I cannot recommend this wine higher. It was a most memorable to visit this winery, but only by special appointment. The tour was personal, intimate, and took my breath away.

---
<![if !supportEmptyParas]> <![endif]>
2000 VIADER
(pronounced "via-dare")
NAPA VALLEY
<![if !supportEmptyParas]> <![endif]>
63% Cabernet Sauvignon   37% Cabernet Franc
Release Date:               September 9th, 2002
Owner:                                   Delia Viader, Ph. D.
Winemaker:                           Delia Viader/Charles Hendricks (consultant)
<![if !supportEmptyParas]> <![endif]>
<![if !supportEmptyParas]> <![endif]>
2000 Growing Season
With the exception of a small number of heat spikes in June, the growing season was ideal.  Hot days and cool nights reigned on our hillside, which in turn, allowed our berries to ripen at a steady rate, with exceptionally balanced acidity and immense complexity.  Yields were small to normal.  Our vineyards have been organically farmed and hand labored since 1988.
<![if !supportEmptyParas]> <![endif]>
Winemaking
Extended Maceration of hand selected lots.  Malolactic fermentation occurs in barrel.  96% new French Oak barrels, 4% Russian Oak (for Cabernet Franc).  Wine spends 21 months in oak barrels  (Taransaud – Seguin Moreau).  Racked every 14-16 weeks, no fining or filtration. Our philosophy is to allow the grapes and the terroir (all factors that influence the character of grapes grown in a specific microclimate), to express themselves naturally, in every glass of Viader.
<![if !supportLineBreakNewLine]>
<![endif]>
Our distinctive blend of Cabernet Sauvignon—which provides the backbone, structure, character, complexity, with succulent fruit and rich tannins— and Cabernet Franc—which instills the aromatics, and provides the silky sleek structure as well as suppleness and elegance in the lengthy finish—captures an ideal balance between the two, with the Cabernet Franc contributing early approachability  and the Cabernet Sauvignon providing longevity.
Winemaker Notes:
2000 Viader
Proprietary Cabernet Blend Napa Valley
<![if !supportEmptyParas]> <![endif]>
Intense concentrated fruit with black currents, layers of chocolate, hints of licorice, anise, earth and leather, with a long, complex, and lingering aftertaste.   Powerful and rich fruit with well-incorporated tannins— though not overpowering—lead to an elegant and graceful gem.  Although quite approachable, it will continue to age superbly over the next two decades.  Best to drink in 5 to 7 years for added bottle bouquet & complexity.  
<![if !supportEmptyParas]> <![endif]>
Harvest Dates:                  Sept 30 – Oct 11

Brix at Harvest:                23.5 º to 24.4º

pH:                                        3.76            

<![if !supportEmptyParas]> <![endif]>

 Production:   4,647 cases

Appellation:  Napa Valley (on Howell               Mountain)
<![if !supportEmptyParas]> <![endif]>
---
Wine Spectator Cellar Selection for the month of May, 2002

Viader Napa Valley 1999 $75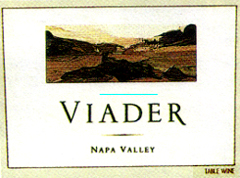 Very rich and distinctive, with spicy currant, leather, tobacco, cedar and mocha aromas and complex, concentrated, earth, currant, spice and cedar flavors. Gains depth and nuance on the finish, where the flavors run deep and long. Tannins are firm and well-integrated. Drink now through 2012. 3,500 cases made.
---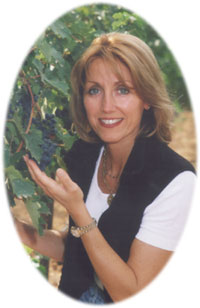 Wine Spectator Top World Wide Wines 2001
The only American winery to make it in the top ten this year. Viader was second last year
In the red wine category for the last thirteen years of the Top 100's, since the Wine Spectator started this, in addition to Viader, only Caymus has finished in the top ten more than once and with their Napa Valley Special Selection. Remarkable.

---
THE TOP 100 WINES OF 2000

Wine Spectator tasted over 11,000 newly released wines in blind tastings during the year 2000, of which more than 1,550 rated 90 points or better. These were the initial candidates for this year's Top 100. Our final rankings were determined by evaluating each wine on four criteria: quality (as represented by score); value (as reflected by price); availability (as measured by production or, in the case of international wines, by amount imported); and an X-factor we call excitement.
Red wines rose to the top of the heap, comprising more that three-quarters of our Top 100. This is due largely to the success of three imported wine regions-extraordinary vintagers in 1997 for California Cabernet and Tuscan reds, and an outstanding vintage in 1998 for France's Southern Rhone Valley.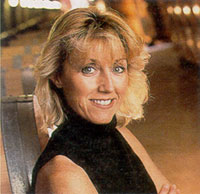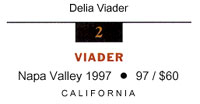 Delia Viader's red debuted with the 1989 vintage and first graced our Top 100 in 1997, with its 1994 vintage. Winemaker Tony Soter, who has since retired from consulting, notched this Cabernet Sauvignon-cabernet Franc blend a little higher with this vintage. It's Viader's best effort to date, and well priced, too, 4,800 cases made.
---
1999 VIADER
(pronounced "via-dare")
NAPA VALLEY
61% Cabernet Sauvignon 39% Cabernet Franc

| | |
| --- | --- |
| Release Date: | October 1st, 2001 |
| | |
| --- | --- |
| Owner: | Delia Viader, Ph. D. |
| Winemakers: | Delia Viader / Charles Hendricks |
Planting Density: 5 feet (1.50m) x 4 feet (1.20m), approximately 2200 plants per acre.
Soil Types: Volcanic Tuff (argilo calcaire)-Forward Aiken series - rocky loams with some hard rhyolite ond basalt. the rocky soils provide excellent drainage.
Exposure: N. west facing 32% slope, vine rows go up and down slope @ 1200 ft. And another South facing 20% slope for the Syrah @ 1245 ft elevation. Vineyard rows' orientation optimize riprning without fruit burning.
Vineyard Practices: Organically farmed, all hand labored steep hillside. Very low yields.
Winemaking: Malolactic fermentation barrel. 75% new french oak (center of France), 4% Russian Oak barrels. 21 months in barrel (Taransaud and Seguin Moreau). Estended Maceration of hand selected lots. No fining and no filtration. Racked every 12-14 weeks pH: 3.76 TA: 0.60g/100ml
Appellation: Napa Valley (on Howell Mountain, 200 ft from appellation's boundary)
Production: 3489 cases total (packed in six pack cases).
Notes: 1999 Viader Propiertary Cabernet Blend Napa Valley. " Deep ruby. Prtty, penetrating aromas of cassis and violet. Fresh and penetration in the mouth, with flavors of blackberry and licorice. Not especially thick but quite precise... Sexy black raspberry aroma... Still a bit folded in on itself. Finishes wery long and sweet. The blend promises to be a superb release for this bottling 91-94."
Steve Tanzer, International Wine Cellar, issue 96.
"Enormous, brimming wirh ripe and juicy plum, black cherry, wild barry and currant, with a supple, polished core of cedar and spice. 91-100."
James Laube, Sr. Editior, wine Spectator, June 2000

---
Wine, women and strong


Delia Viader, relaxing at home with her dog, owns Viader Winery in Deer Park overlooking the Napa Valley.

By Paul Franson
SPECIAL TO THE EXAMINER
NAPA — The roster of movers and shakers at this year's Napa Valley Wine Auction shows how prominent women have become in the once-male-dominated wine business:
The auction's chair was Michaela Rodeno, CEO of St. Supéry Winery in Rutherford.
The top spender, at $200,000, was Dee Lincoln of Wichita, Kan., who bid $160,000 for Maya wine from Oakville's Dalla Valle Winery, which is owned by a woman, Naoko Dalla Valle.
The top price for a barrel lot was $59,950 for 10 cases of Rutherford's Staglin Family Vineyards wine made by Celia Marsyczek.
The top silent auction bid was $5,100 for wine from Delia Viader's Viader Winery in Deer Park.
The hottest winemaker was Heidi Barrett, whose wines include Screaming Eagle (owned by Jean Phillips), Grace Family and Paradigm plus her label, La Sirena.
The auction, held in June at Meadowood in St. Helena, reflects a trend in California winemaking: Women have become a force.
In the past, women found their way into the business only by inheriting wineries. Now many women manage wineries they didn't inherit, including some they've started. Many are world famous winemakers, and a degree in enology or experience in marketing is as common a route into the business as family connections.
Women have made great strides the old-fashioned way, many in the wine industry say. They have studied the basics of the craft and worked their way up.
Just 35 years ago, Mary Ann Graf became the first graduate of the famous enology program at UCDavis. Since then, many other women have become role models in the business.
They include Zelma Long, president of Simi Winery in Healdsburg and general manager of Chandon Estates California. Long started out by studying winemaking, then was hired by Mike Grgich at Robert Mondavi Winery in Oakville. When Grgich left the winery to start his own, she took over.
"Zelma solidified my feelings that mentoring is vital for any minority pioneering a new field," said Dawnine Dyer, the winemaker at Domaine Chandon in Yountville. Dyer followed Long's lead by landing a lab job at Bargetto Winery in Soquel during college and eventually earning a position under Long.
Even women who broke in with the help of family connections say the field is open to any woman who learns the trade.
Beth Novak Milliken, president of the family business, Spottswoode Winery in St. Helena, and the first woman president of the Napa Valley Vintners' Association, said the technical route is the surest path to success in winemaking.
"Get a wine degree from Davis or Fresno State, then work as a cellar rat," Milliken said.
Delia Viader, who runs her namesake winery at a steep vineyard overlooking Napa Valley, would be a success in any field. She may drive a tractor, but she also speaks six languages, has a Ph.D. in French and a master's in business from MIT, and has been toasted by President Clinton as a successful entrepreneur. Disarmingly charming, the Argentine-born Viader admits that her femininity can be an asset.
"If the distributors or wine writers want to take me to dinner, why should I offend them by refusing?" she said.
Women have always participated in the wine business, but some were thrust into the limelight only after the deaths of their fathers or husbands.
Jamie Davies recently became president of Schramsberg Vineyards in Calistoga when her husband, Jack, died. Carolyn Wente Carolyn Martini and Sylvia Sebastiani, all heirs to their famous I family, are deeply involved ir running businesses started by fathers and husbands.
Virginia Van Asperen also runs a wine business started by her husband, Ernie, who is sailing aroundthe world. After selling a chain of discount wine stores and "retiring" to Napa Valley, he started Round Hill Cellars, then opened a wine store in St. Helena. After they sold the St. Helena store in 1984, Virginia, who had been a buyer for retailer Cyril Magnin, took over the winery and eventually became president.
It's easy to overlook wives who work with their husbands, but many have made major contributions to their businesses. After founding Pine Ridge Winery in Napa with her husband, Gary, in 1978, Nancy Andrus spends two weeks a month on the road promoting the wine. Attorney Barbara Banke serves as vice chairman of Kendall-Jackson Winery Ltd.. founded by husband Jess Jackson. She also serves as president of its Cambria Winery in Santa Barbara.
Many other winemakers without Napa Valley family trees have found success, as well. UCDavis grad Cathy Corison made her own wines during 10 years at Chapellet Vineyards. Now she and her husband own 21 acres in St. Helena, where she turns out an acclaimed Cabernet.
Celia Marsyczek, another UCDavis graduate, works with Hartwell Vineyards and Goosecross Cellars as well as Staglin — while reserving time for her two small children. She worked in New Zealand and Australia before moving to Napa Valley and recalls that in 1984 a winery owner admitted he wasn't willing to hire a woman.
"I was astounded," Marsyczek said. "At a large winery in Australia, I did everything from lab chemistry to pulling hoses."
Other consulting winemakers who make tiny amounts of intense wines have become the darlings of wine writers. Among them are Mia Klein, who has her own Selene label and makes wine for Etude, Viader and Spottswoode; and Helen Turley, who makes wine for her own Marcassin Wines as well as Bryant Family, Pahlmeyer and Peter Michael.
In addition, many women are rising through the fiscal side of the industry. Lorri Emmerich, general manager of Murphy-Goode Estate Winery in Geyserville, was recently elected president of the Sonoma County Winemakers Association.
California Culinary Academy graduate Bev Salinger shifted to wine when she moved to the Napa Valley. After a marketing stint at Frog's Leap Winery, she formed Unalii Hillside Estates with distributor Diane Harder. Not a trained winemaker, Salinger hires experts to help fashion wine to her taste.
St. Supéry CEO Rodeno parlayed her fluency in French into her first job at French-owned Domaine Chandon. Adding an M.B.A., she worked up to vice president of marketing before joining St. Supéry, itself owned by the French Skalli family.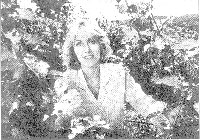 Delia Viader stands amid sun-splashed Cabernet Franc vines on her property in the hills east of St. Helena.
Women in the Wine Business and other articles
by Paul Franson.
Great Wine Links
The Wine Enthusiast
Wine Business Vineyard & Winery Management
Wine Industry News
Wine Institute
Winetoday.com
Napa Valley Vintners
Wine Zone
Fun Store In Yountville, Napa County, California